Call for Papers FIG e-Working Week
Tisdag 12 Januari kl 00:00
Region: webben
Plats:
The theme for FIG e-Working Week 2021 will be the same as for the Working Week 2020 – however with an addition to reflect on working with and adapting to new realities; in this case the impact of COVID-19 on our profession:  
Smart Surveyors for Land and Water Management 

Challenges in a New Reality
Besides the subthemes Smart Surveyors, Integrated Land and Water Management and FIG, surveyors and the SDG's, we want to focus on the surveyors and the challenges they have in an unstable, uncertain and unpredictable world and with what technology, methods and procedures they face these new developments. How do surveyors adapt to these unexpected circumstances and what have we learned so far from these challenges?
The theme 'Smart Surveyor for Land and Water Management - challenges in a new reality' is relevant both for the  international community as well as for our local organisers from the Netherlands. Mapping and surveying are basic activities to support the management of land and water. Having almost 200 years of experience with mapping and more than 100 years of land consolidation, the Netherlands brings inspiring knowledge and experience to the FIG e-Working Week 2021. Apart from being known for its tulips, wind mills and clogs, with its almost 42,000 Square km the Netherlands is one of the most surveyed area in the world. Every square meter is mapped, registered and documented and it has to be, being densely populated, with more than 55% of the total country below sea level and being the second exporter of agricultural goods in the world.
We look forward to receiving your abstract! DEADLINE 12 JANUARY 2021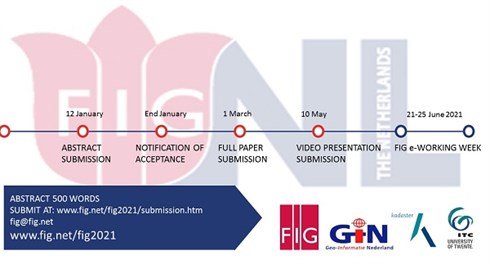 More information on the FIG e-Working Week web site: www.fig.net/fig2021