BVC 2023 går av stapeln 7-9 sept i Warszawa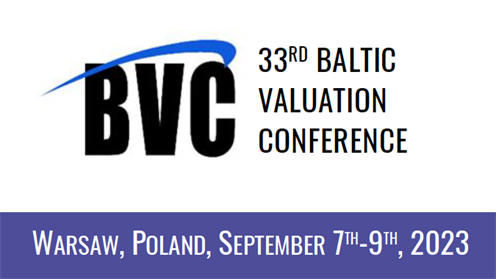 ABOUT THE EVENT 
 The tradition of the conference is that the conference participants present cases and/or experiences from their profession pointing out national solutions and valuation problems. Please, register as a speaker and share your experience. 
The Baltic Valuation Conference is an informal meeting of valuers from countries around the Baltic Sea. It does not only offer an informative exchange of experience and methods, but also provides personal contacts with colleagues in other countries. 
The conference is driven by an individual effort and interest – keep it going! 
TOPICS OF THE BVC 2023  
Value affecting characteristics in a comparison method (e.g. green buildings) – ways to detect them and figure out their impact. 
The assessment of the property valuation accuracy (who assesses and to what extent) and its impact on the professional liability of the property valuer. 
The impact of the war in Ukraine on the property market and property value. 
Implicit and explicit cash flows in the income approach. 
On behalf of the organising committee, welcome to the BVC 2023 in Warsaw, Poland! 
Publicerat:
Fredag 28 April