Completely Retail Marketplace Nordics
Torsdag 25 Maj kl 09:00
Region: Stockholm
Plats: Münchenbryggeriet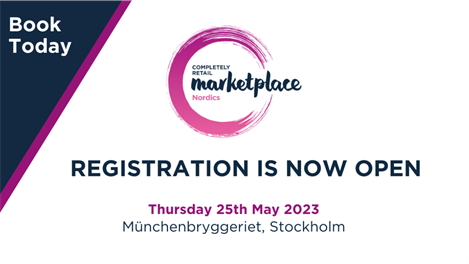 NO EVENT GOES FURTHER TO SUPPORT EUROPEAN RETAIL
Completely Retail Marketplace Nordics is where retailers can come and meet a diverse range of property brokers, landlords, shopping centre owners and franchise operators to discuss site opportunities within the Nordic region. Or to explore international opportunities if they're a Nordic retailer looking to expand outside of the region.
WHAT IS IT ABOUT?
Simple – securing retail space and forging connections. The event facilitates an accelerated environment purely to help agents, landlords, retail and leisure brands agree new deals for available shops, popups, kiosks and partnerships.
Stockholm – Münchenbryggeriet  – Thursday 25th May 2023

Do not miss out on the flagship U.K. event in London held in the historical venue Old Billingsgate on 25th April and 26 September 2023. Welcome!
Visit crmarketplace.com or contact simon@completelygroup.com for further information.