Digital Trends and a new Form of Ownership using Blockchain
Fredag 7 Oktober kl 08:15
Region:
Plats: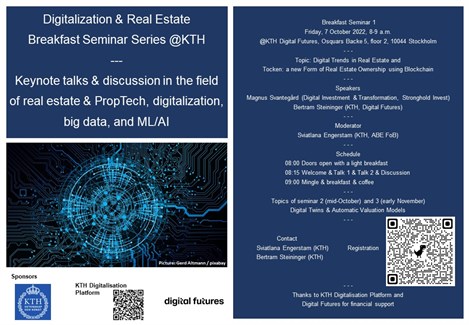 Välkommen till ett frukostseminarium arrangerat av avdelningen för Fastighetsekonomi och Finans, KTH Digitalisation och Digital futures platform.
Seminariet riktar sig till dig som är intresserad i digitalisering i fastighetsbranschen och vill veta mer om vad som är på gång. 

Seminariet är kostnadsfritt. Språk: Svenska/Engelska. 
Seminar 1: Digital Trends and a new Form of Ownership using Blockchain
Friday 7 October 2022, time 8:15-9:05 at Digital Futures KTH
Address: Osquars Backe 5, floor 2, 100 44 Stockholm. 
Breakfast from 8:00.
Program:
08:15 - Welcome and introduction
08:20 -  Talk 1: Trends on Digitalization in the Real Estate sector by Magnus Svantegård, Digital Investment & Transformation, Stronghold Invest AB, Co-Founder, Nordic PropTech Initiative. 
08:35 - Talk 2: Blockchain and Digital Token as a new Form of Ownership by Bertram Steininger, KTH, Digital Futures.
08:50 - Discussion
09:00 - Closing remarks
09:05 - Mingle&breakfast&coffee
Registration (physical or virtual attendance*):
https://www.eventbrite.com/e/breakfast-seminar-on-real-estate-digitalization-big-data-mlai-tickets-426913278107
Save the date:
Seminar 2: Digital Twins: Virtual Reality and Property Management
21 October 2022 (tbc), registration link follows
Seminar 3: Automated Valuation Model
4 November 2022, registration link follows
We thank the KTH Digitalisation Platform and Digital Futures for their support.
All the best,
Sviatlana Engerstam and Bertram Steininger
* For virtual participants:
The virtual option will take place in a webinar form so that the virtual participants are anonymous and the talks (not discussions) could be recorded. Questions can be asked via the chat function and the moderator or the participant can ask the question. If you miss the live broadcast of a talk, you may have the opportunity to watch selected talks afterward. You can contact us to get access to the recordings.