Linnaeus Eco-Tech 2018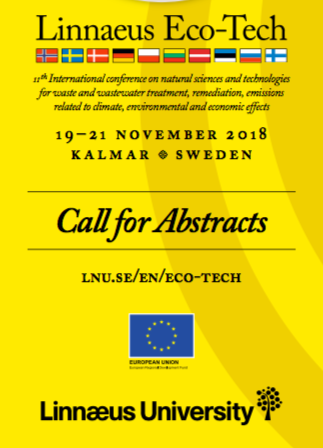 Linnaeus Eco-Tech 2018
Welcome to the 11th International Conference on the Establishment of Cooperation between Companies and Institutions in the Nordic Countries, the Baltic Sea Region and the World, in Kalmar, Sweden 19–21 November 2018.
Background
Linnaeus Eco-Tech has been an academic tradition since 1997. The conference is organized by Linnaeus University every second year. One of the main goals of the conference is to promote research and education cooperation among the countries around the Baltic Sea and the World, towards sustainability. 
Aims
The conference aims to promote knowledge, research and international cooperation within the areas of environmental science and environmental engineering. These aims are accomplished by plenary sessions, keynote speakers, workshops, exhibitions, study visits and scientific papers. Linnaeus Eco-Tech is based on the Quadruple Helix cooperation between university, industry, municipality and public sector.Linnaeus University is active in several EU projects, has joined the Baltic Sea Challenge network that has similar aims and over 250 committed cities, NGOs, universities, companies and other organizations implementing their own action plans and seeking for co-operation with other organizations. 
Scientific topics
Water/Wastewater: Water distribution from source
to tap (freshwater) • Health & hygienic materials (sustainable sanitation) • Water and wastewater treatment • Non-Conventional treatment systems • Leachate treatment • Water/Wastewater reuse • Constructed Wetland systems • Industrial Wastewater and Storm water management • Ecotoxicology • Pharmaceuticals and micro plastics • Sludge management • Harbor/port, bay and lagoon mining • Clean and safe ship transportation
• Effects of water transportation • Climate change and effects • IWAMA-improving wastewater management • RBR- green innovations for blue growth
Solid waste: Waste management policies, strategies and directives • Innovative waste minimization • Soil remediation • Zero waste and beyond the zero waste • Hazardous waste • Waste to energy • Storage
of recyclables, waste fuels and re hazards • Modern landfills • Urban, land ll and glass mining - Closing the anthropogenic loops • Phytoremediation • Nutrients and metals recovery • Cold condition and space waste • Waste management in developing countries
Environment and society: Triple/Quadruple Helix collaboration among university, industry, public sectors
and civil society • Environmental economics, awareness and education • E ects of anthropogenic activities and environmental impact assessment • Circular economy concept – innovation and environmental entrepreneurship • Sustainable consumption and production pattern
Instructions for abstracts and full papers and information regarding submitting your paper are found on the web page: Lnu.se/en/eco-tech
Location
Linnaeus Eco-Tech 2018 conference will take place in the Brofästet Hotel & Conference in Kalmar. Gröndalsvägen 19, 392 36 Kalmar
Deadlines
Registration opens: 15 March 2018 Deadline for abstracts: 1 September 2018 Registration deadline: 15 October 2018 Submission for full papers: 15 October 2018
Registration fee (excl. Tax):
5500 SEK for early bird registration before 1 June 7000 SEK for late registration after 1 June (including all meals, co ee breaks, dinners and the proceedings from the conference)
1500 SEK for graduate student (including meals, proceedings from the conference, no dinners)
Exhibition and Poster Session:
Companies, public sector and universities are invited to present their activities and technologies in the Exhibition Area.
Technical Tour and Social Program:
A study visit will be arranged within the region, related to the conference subjects. Entertainment during the dinner will be provided as well, and many opportunities for socializing.
Organizing secretariat
Linnaeus University
Faculty of Health and Life Sciences
Dept. of Biology and Environmental Science Landgången 3, SE-391 82 Kalmar, Sweden e-mail:
eco-tech@lnu.se 
See you there!
Publicerat:
Fredag 6 April